Thor Statue by Iron Studios Avengers: Endgame - 1:4 Legacy Replica
Thor
Statue by Iron Studio

Avengers: Endgame - 1:4 Legacy Replica
Est. Arrival:
Jan 2020 - Mar 2020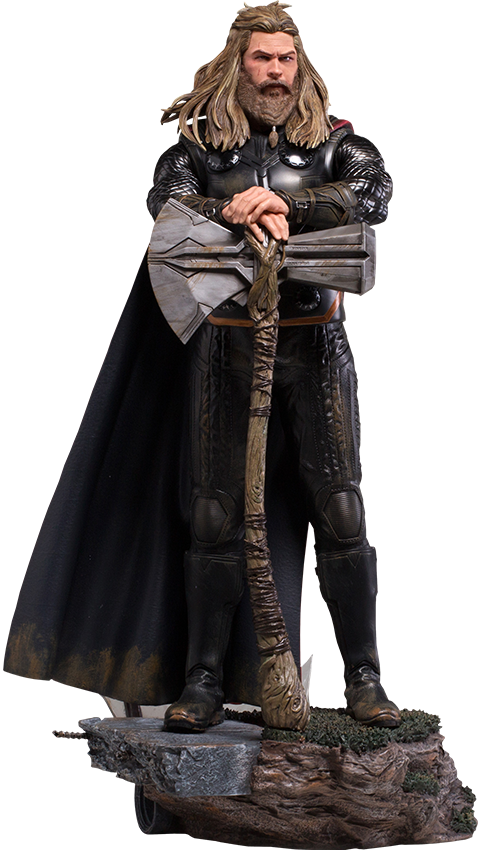 ABOUT THIS STATUE
Following the worldwide success of the Avengers: Endgame movie, Sideshow and Iron Studios are proud to announce the latest statue from the Legacy Replica 1:4 Scale line - Thor! Based on the likeness of Chris Hemsworth from the film, this statue is hand-painted and limited edition.

Endgame fans, don't miss your chance to add the God of thunder to your collection!
WHAT'S IN THE BOX?
The Thor 1:4 Statue features:
Limited Edition
Based on original movie references
Made in Polystone
Hand-Painted
Two left arm options, one with Mjolnir
ADDITIONAL DETAILS & DIMENSIONS
Height: 24.2" (614.68 mm) | Width: 14.2" (360.68 mm) | Depth: 12.2" (309.88 mm) | Weight: 18.3 lbs (8.3 kg)

*

0.00 lbs

(0 kg) [Intl. 0.00 lbs (0 kg)]

*

904765

606529899653
(c) 2019 MARVEL
เกี่ยวกับรูปปั้นนี้
หลังจากความสำเร็จทั่วโลกของภาพยนตร์เวนเจอร์: Endgame, Sideshow และ Iron Studios มีความภูมิใจที่จะประกาศรูปปั้นล่าสุดจาก Legacy Replica 1: 4 Scale Line - Thor! รูปปั้นนี้เป็นภาพวาดที่ทำด้วยมือและมีจำนวน จำกัด
Endgame fans อย่าพลาดโอกาสของคุณในการเพิ่มเทพเจ้าแห่งฟ้าร้องในคอลเล็กชันของคุณ!
ยี่ห้อ
ประหลาดใจ
ผู้ผลิต
สตูดิโอเหล็ก
ชนิด
รูปปั้น
อะไรอยู่ในกล่อง?
คุณสมบัติของรูปปั้น Thor 1: 4:
รุ่น จำกัด
อ้างอิงภาพยนตร์ต้นฉบับ
ทำใน Polystone
มือวาด
แขนซ้ายสองทางเลือกหนึ่งที่มี Mjolnir
รายละเอียดเพิ่มเติมและมิติ
วัสดุ
Polystone
ขนาดผลิตภัณฑ์
ความสูง: 24.2 "(614.68 มม.) | ความกว้าง: 14.2" (360.68 มม.) | ความลึก: 12.2 "(309.88 มม.) | น้ำหนัก: 18.3 ปอนด์ (8.3 กก.) *
น้ำหนักมิติ
0.00 ปอนด์ (0 กก.) [นานาชาติ 0.00 ปอนด์ (0 กก.)] *
SKU
904765
UPC
606529899653
(c) 2019 ประหลาดใจ