Winter Soldier Statue by Iron Studios Avengers: Endgame - Art Scale 1:10 Battle Diorama Series
Winter Soldier
Avengers: Endgame - Art Scale 1:10 Battle Diorama Series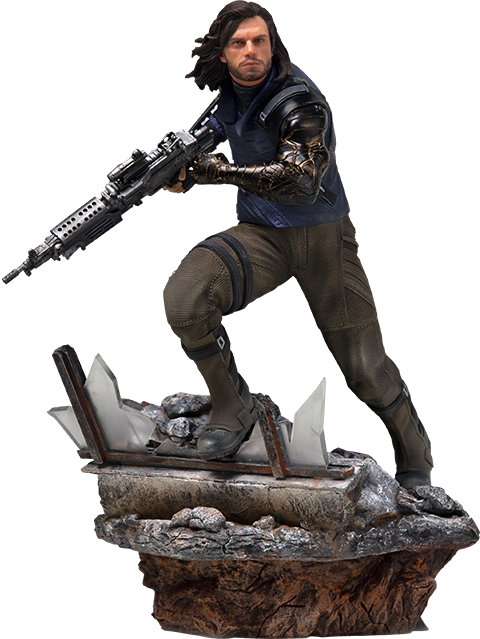 Winter Soldier is James "Bucky" Barnes, who after being seriously injured in World War II, was found by Russians who transformed him through freezing and mental manipulations into the Winter Soldier, a cold assassin responsible for important political assassinations that only managed to recover his memories thanks to Captain America.
In the Marvel Cinematic Universe he is portrayed by the actor Sebastian Stan. Bucky Barnes has an implanted bionic arm that gives him strength and superhuman reflexes. In Avengers: Infinity War he vanishes after the Thanos snap.
Now, the Winter Soldier is back in Art Scale 1:10 form for Avengers: Endgame with a fully detailed base and an updated likeness of Sebastian Stan.
WHAT'S IN THE BOX?
The Winter Soldier Art Scale Statue features:
Limited edition
Based on original movie references
Made in polystone
Hand painted
This statue is part of a battle diorama based on the Avengers: Endgame movie
ADDITIONAL DETAILS & DIMENSIONS
Height: 8.3" (210.82 mm) | Width: 5.9" (149.86 mm) | Depth: 5.5" (139.7 mm) | Weight: 2.2 lbs (1 kg)

*

0.00 lbs

(0 kg) [Intl. 0.00 lbs (0 kg)]

*

* Size and weight are approximate values. Learn more
904762

606529899639
(c) 2019 MARVEL
Witer Soldier
Avengers: Endgame - Art Scale 1:10 Battle Diorama Series
Est. Arrival:
Jan 2020 - Mar 2020
เกี่ยวกับรูปปั้นนี้
ทหารฤดูหนาวคือเจมส์ "บัคกี้" บาร์นส์ซึ่งหลังจากได้รับบาดเจ็บสาหัสในสงครามโลกครั้งที่สองถูกค้นพบโดยชาวรัสเซียที่เปลี่ยนเขาผ่านการเยือกแข็งและการจัดการทางจิตใจในฤดูหนาวของทหาร ความทรงจำต้องขอบคุณกัปตันอเมริกา

ใน Marvel Cinematic Universe เขาแสดงโดยเซบาสเตียนสแตน บัคกี้บาร์นส์มีแขนไบโอนิคฝังที่ทำให้เขามีความแข็งแกร่งและการตอบสนองเหนือมนุษย์ ในเวนเจอร์ส: Infinity War เขาหายตัวไปหลังจาก Thanos snap

ตอนนี้ Winter Winterier กลับมาอีกครั้งในรูปแบบ Art Scale 1:10 สำหรับ Avengers: Endgame โดยมีรายละเอียดครบถ้วนและภาพของ Sebastian Stan ที่อัปเดตแล้ว

ยี่ห้อ
ประหลาดใจ
ผู้ผลิต
สตูดิโอเหล็ก
ชนิด
รูปปั้น
อะไรอยู่ในกล่อง?
คุณสมบัติของรูปปั้นเกล็ดทหารในช่วงฤดูหนาว:

รุ่น จำกัด
อ้างอิงภาพยนตร์ต้นฉบับ
ทำในโพลีสโตน
ทาสีด้วยมือ
รูปปั้นนี้เป็นส่วนหนึ่งของภาพการต่อสู้ตามภาพยนตร์ Avengers: Endgame
รายละเอียดเพิ่มเติมและมิติ
วัสดุ
Polystone
ขนาดผลิตภัณฑ์
ความสูง: 8.3 "(210.82 มม.) | ความกว้าง: 5.9" (149.86 มม.) | ความลึก: 5.5 "(139.7 มม.) | น้ำหนัก: 2.2 ปอนด์ (1 กก.) *
น้ำหนักมิติ
0.00 ปอนด์ (0 กก.) [นานาชาติ 0.00 ปอนด์ (0 กก.)] *
* ขนาดและน้ำหนักเป็นค่าโดยประมาณ เรียนรู้เพิ่มเติม

SKU
904762
UPC
606529899639
(c) 2019 ประหลาดใจ