Hulk (Deluxe) Statue by Iron Studios Battle Diorama Series Art Scale 1:10 - Avengers: Endgame
Hulk (Deluxe)
Battle Diorama Series Art Scale 1:10 - Avengers: Endgame
ABOUT THIS STATUE
Est. Arrival:
Jan 2020 - Mar 2020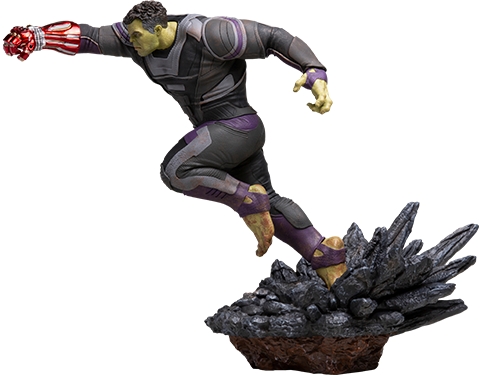 The Incredible Hulk is the scientist Dr. Robert Bruce Banner who upon receiving intense waves of gamma rays is not killed by radiation, but has his DNA altered instead. From that moment forward every time he gets nervous, angry or stressed, the Hulk changes form and unleashes a physical strength with no established limit.
In Avengers: Endgame, Hulk found a middle ground between the scientist and the beast.
Iron Studios brings the Hulk (Deluxe) 1:10 Battle Diorama Series Art Scale Statue to the the final battle diorama. The Deluxe Version also features an interchangeable hand with a light-up Avenger's Gauntlet.
WHAT'S IN THE BOX?
The Hulk (Deluxe) Art Scale Statue features:
Limited Edition
Based on original movie references
Made in polystone
Hand painted
This statue is part of the battle diorama based on the Avengers: Endgame movie
Includes extra right hand with LED Gauntlet
ADDITIONAL DETAILS & DIMENSIONS
Height: 8.6" (218.44 mm) | Width: 5.5" (139.7 mm) | Depth: 11.4" (289.56 mm) | Weight: 2.8 lbs (1.27 kg)

*

0.00 lbs

(0 kg) [Intl. 0.00 lbs (0 kg)]

*

* Size and weight are approximate values. Learn more
904791

606529899714


เกี่ยวกับรูปปั้นนี้
The Incredible Hulk เป็นนักวิทยาศาสตร์ดร. Robert Bruce Banner ผู้ที่ได้รับคลื่นรังสีแกมม่าที่รุนแรงไม่ได้ถูกฆ่าโดยการแผ่รังสี แต่มีการเปลี่ยนแปลง DNA ของเขาแทน จากช่วงเวลานั้นไปข้างหน้าทุกครั้งที่เขารู้สึกกังวลโกรธหรือเครียดการเปลี่ยนแปลงของ Hulk ก่อให้เกิดความแข็งแกร่งทางกายภาพโดยไม่ จำกัด ขีด จำกัด


ใน Avengers: Endgame, Hulk พบพื้นกลางระหว่างนักวิทยาศาสตร์และสัตว์ร้าย


Iron Studios นำ Hulk (ห้องดีลักซ์) 1:10 Battle Diorama ซีรี่ส์ Art Statue Statue ไปยังภาพสามมิติสุดท้ายของการต่อสู้ ห้องดีลักซ์เวอร์ชั่นยังมีมือที่ถอดเปลี่ยนได้ด้วย Gauntlet ของ Avenger ที่สว่างขึ้น


ยี่ห้อ
ประหลาดใจ
ผู้ผลิต
สตูดิโอเหล็ก
ชนิด
รูปปั้น
อะไรอยู่ในกล่อง?
คุณสมบัติรูปปั้นศิลปะของ The Hulk (Deluxe):


รุ่น จำกัด
อ้างอิงภาพยนตร์ต้นฉบับ
ทำในโพลีสโตน
ทาสีด้วยมือ
รูปปั้นนี้เป็นส่วนหนึ่งของภาพการต่อสู้ตามภาพยนตร์ Avengers: Endgame
รวมถึงมือขวาพิเศษพร้อม LED Gauntlet
รายละเอียดเพิ่มเติมและมิติ
วัสดุ
Polystone
ขนาดผลิตภัณฑ์
ความสูง: 8.6 "(218.44 มม.) | ความกว้าง: 5.5" (139.7 มม.) | ความลึก: 11.4 "(289.56 มม.) | น้ำหนัก: 2.8 ปอนด์ (1.27 กก.) *
น้ำหนักมิติ
0.00 ปอนด์ (0 กก.) [นานาชาติ 0.00 ปอนด์ (0 กก.)] *
* ขนาดและน้ำหนักเป็นค่าโดยประมาณ เรียนรู้เพิ่มเติม


SKU
904791
UPC
606529899714
(c) 2019 ประหลาดใจ