Thanos (Deluxe) Statue by Iron Studios Avengers: Endgame - 1:4 Legacy Replica
Thanos (Deluxe)
Avengers: Endgame - 1:4 Legacy Replica
Est. Arrival: Jan 2020 - Mar 2020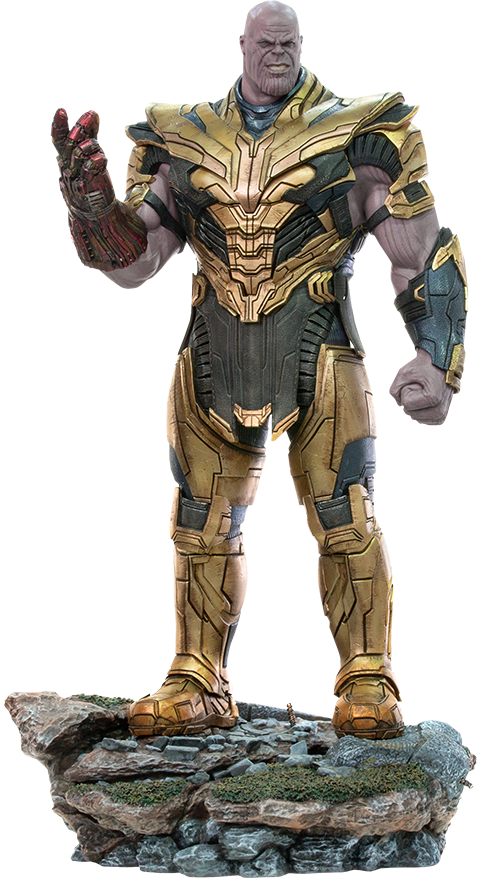 ABOUT THIS STATUE
Following the worldwide success of the Avengers: Endgame movie, Sideshow and Iron Studios are proud to announce the latest Deluxe statue from the Legacy Replica 1:4 Scale line - Thanos! Based on the original film references, this statue is hand-painted and limited edition. The Deluxe edition also features multiple head options as well as a Stark Gauntlet!

Endgame fans, don't miss your chance to add Thanos to your collection!
WHAT'S IN THE BOX?
The Thanos (Deluxe) 1:4 Statue features:
Limited Edition
Based on original movie references
Made in Polystone
Hand-Painted
Includes Three (3) head options
One (1) right hand with blade
One (1) right hand with Stark Gauntlet
One (1) left hand with light up LED Infinity Gauntlet
One (1) bare left hand
ADDITIONAL DETAILS & DIMENSIONS
Materials
Product Size

Height: 30.7" (779.78 mm) | Width: 17.7" (449.58 mm) | Depth: 15.7" (398.78 mm) | Weight: 26.5 lbs (12.02 kg) *

Dimensional Weight

0.00 lbs (0 kg) [Intl. 0.00 lbs (0 kg)] *
SKU

904813

UPC

606529899738
(c) 2019 MARVEL
เกี่ยวกับรูปปั้นนี้
หลังจากความสำเร็จทั่วโลกของภาพยนตร์เวนเจอร์: Endgame, Sideshow และ Iron Studios มีความภูมิใจที่จะประกาศรูปปั้น Deluxe ล่าสุดจาก Legacy Replica 1: 4 Scale Line - Thanos! อ้างอิงจากต้นฉบับอ้างอิงจากภาพยนตร์รูปปั้นนี้เป็นภาพวาดด้วยมือและมีจำนวน จำกัด ฉบับดีลักซ์ยังมีตัวเลือกหลายหัวเช่นเดียวกับสตาร์คถุงมือ!
Endgame fans อย่าพลาดโอกาสของคุณในการเพิ่ม Thanos ในคอลเล็กชันของคุณ!
ยี่ห้อ
ประหลาดใจ
ผู้ผลิต
สตูดิโอเหล็ก
ชนิด
รูปปั้น
อะไรอยู่ในกล่อง?
The Thanos (Deluxe) คุณสมบัติรูปปั้น 1: 4:
รุ่น จำกัด
อ้างอิงภาพยนตร์ต้นฉบับ
ทำใน Polystone
มือวาด
มีตัวเลือกหัวสาม (3) ตัว
มือขวาหนึ่งใบมีด
มือขวาหนึ่ง (1) ตัวพร้อม Stark Gauntlet
มือซ้ายหนึ่ง (1) พร้อมหลอดไฟอินฟินิตี้ LED แบบส่องสว่าง
มือซ้ายเปล่าหนึ่ง (1)
รายละเอียดเพิ่มเติมและมิติ
วัสดุ
Polystone
ขนาดผลิตภัณฑ์
ความสูง: 30.7 "(779.78 มม.) | ความกว้าง: 17.7" (449.58 มม.) | ความลึก: 15.7 "(398.78 มม.) | น้ำหนัก: 26.5 ปอนด์ (12.02 กิโลกรัม) *
น้ำหนักมิติ
0.00 ปอนด์ (0 กก.) [นานาชาติ 0.00 ปอนด์ (0 กก.)] *
* ขนาดและน้ำหนักเป็นค่าโดยประมาณ เรียนรู้เพิ่มเติม
SKU
904813
UPC
606529899738
(c) 2019 ประหลาดใจ