Iron Patriot & Rocket Statue by Iron Studios Avengers: Endgame - Art Scale 1:10 Battle Diorama Series
Iron Patriot & Rocket
Avengers: Endgame - Art Scale 1:10 Battle Diorama Series
Est. Arrival: Jan 2020 - Mar 2020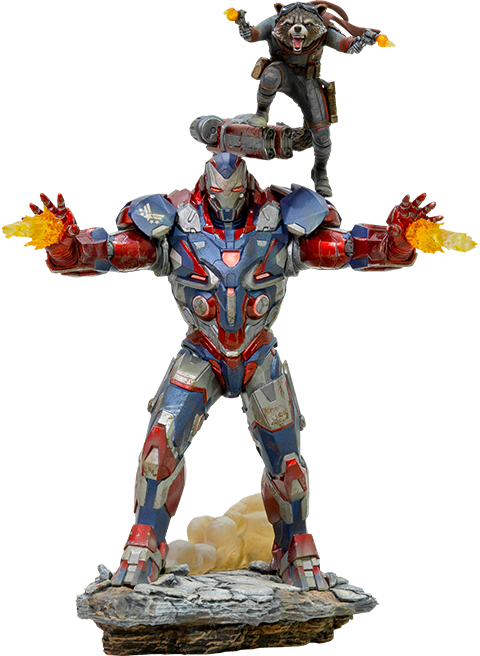 About This Statue
Lieutenant Colonel James Rhodes, Tony Stark's best friend, is known for the armor codenamed War Machine. After joining Captain America and the Avengers to fight against Thanos, War Machine's armor is damaged in combat, prompting the hero to activate the second and most powerful version of the Iron Patriot.
In combat he takes action alongside Rocket, an anthropomorphic raccoon and surviving member of the Guardians of the Galaxy after Infinity War. With the voice of Bradley Cooper, Rocket is a master of weapons and strategy.
In this 1:10 Battle Diorama Series Scale Statue, Iron Studios brings both characters together to join the Avengers Endgame diorama.
What's in the Box?
The Iron Patriot & Rocket Art Scale Statue features:
Limited edition
Based on original movie references
Made in polystone
Hand painted
Automotive paint
This statue is part of a battle diorama based on the Avengers: Endgame movie
Additional Details & Dimensions
Materials
Product Size

Height: 11" (279.4 mm) | Width: 8.2" (208.28 mm) | Depth: 10.2" (259.08 mm) | Weight: 2.2 lbs (1 kg) *

Dimensional Weight

0.00 lbs (0 kg) [Intl. 0.00 lbs (0 kg)] *

* Size and weight are approximate values.
SKU

904830

UPC

606529899707
(c) 2019 MARVEL
เกี่ยวกับรูปปั้นนี้

ผู้พันเจมส์โรดส์เพื่อนที่ดีที่สุดของโทนี่สตาร์คเป็นที่รู้จักกันในชื่อรหัสเกราะเครื่องจักรสงคราม หลังจากเข้าร่วม Captain America และ Avengers เพื่อต่อสู้กับธานอสเกราะของ War Machine ได้รับความเสียหายในการต่อสู้กระตุ้นให้ฮีโร่เปิดใช้ Iron Patriot รุ่นที่สองและทรงพลังที่สุด

ในการต่อสู้เขาใช้แอ็คชั่นร่วมกับ Rocket, แรคคูนของมนุษย์และสมาชิกของ Guardians of the Galaxy หลังสงครามสิ้นสุด ด้วยเสียงของแบรดลีย์คูเปอร์ Rocket เป็นผู้เชี่ยวชาญด้านอาวุธและกลยุทธ์

ในรูปปั้นสเกล Battle Diorama ซีรีย์ 1:10 นี้ Iron Studios นำตัวละครทั้งสองมารวมกันเพื่อเข้าร่วมกับภาพเวนเจอร์ส Endgame

ยี่ห้อ
ประหลาดใจ
ผู้ผลิต
สตูดิโอเหล็ก
ชนิด
รูปปั้น

อะไรอยู่ในกล่อง?

คุณสมบัติของ Iron Patriot & Rocket Art Scale Statue:

รุ่น จำกัด
อ้างอิงภาพยนตร์ต้นฉบับ
ทำในโพลีสโตน
ทาสีด้วยมือ
สียานยนต์
รูปปั้นนี้เป็นส่วนหนึ่งของภาพการต่อสู้ตามภาพยนตร์ Avengers: Endgame

รายละเอียดและขนาดเพิ่มเติม

วัสดุ
Polystone

ขนาดผลิตภัณฑ์
ความสูง: 11 "(279.4 มม.) | ความกว้าง: 8.2" (208.28 มม.) | ความลึก: 10.2 "(259.08 มม.) | น้ำหนัก: 2.2 ปอนด์ (1 กิโลกรัม) *
น้ำหนักมิติ
0.00 ปอนด์ (0 กก.) [นานาชาติ 0.00 ปอนด์ (0 กก.)] *

* ขนาดและน้ำหนักเป็นค่าโดยประมาณ เรียนรู้เพิ่มเติม

SKU
904830
UPC
606529899707

(c) 2019 ประหลาดใจ